Sun to Surf COVID-19 Response
Kia Ora Sun to Surf Runners and Walkers,
What a disappointing and unusual time we find ourselves in. We hope you are all keeping well and finding kindness around you.
To follow on from our notice earlier this week, our team have been working hard to try and find a way we can still have a great Sun to Surf experience in 2020. However, it is with heartache that we must inform you it is not feasible to postpone or hold Sun to Surf in any form this year.
We love this event and having to pull the pin only three weeks out, with all the time, money and effort that has been invested over the past year, is not something any of us are happy about.
As per the full Event Refund Policy which you read and agreed to during the entry process, no cash refunds will be issued in unforeseen circumstances like this.
However, we have your Sun to Surf running caps which are valued at $40 each and will be heading out on a road trip to get these to you as soon as we're able. We would love to see photos of you out and about wearing them and share your running or walking experience with the rest of the Sun to Surf community through our Facebook page.
We are event-loving runners and walkers ourselves, and we know how important it is to keep active and connected for our mental health. We encourage you to continue to set goals and conquer them, enjoying the outdoors as you usually would.
We truly are sorry we won't be seeing you on Easter Weekend and hope you all keep safe and well.
If you have any questions about this decision please check the FAQs below.
For any questions directly related to COVID-19 including preventative measures, please visit the Ministry of Health website.
Click here to get more of an insight into similar decisions made by other event managers.
---
FAQ
Sun to Surf 2020 has been cancelled, so what do I need to know?
Why has this been cancelled rather than postponed?
With the Government directive around mass gatherings in relation to public health due to Covid-19, a lot of events have had to change and unfortunately, Sun to Surf is one of them. After looking at all the information available to us; with a limited number of dates available in the springtime, the pressure and limitations of suppliers, and so many other factors to take into account with this ever-changing situation, it simply isn't possible to postpone this annual event.
Can we do the event remotely?
We understand that many of you will be wanting to keep active during this time, and we do encourage you to be active in whatever way fits your lifestyle. However, Sun to Surf will not be offering a 'virtual run' option on the 11th of April 2020.
Will I still get my gear?
We are going to grab your caps and head out on a road trip very soon! We'll visit the main centres here in the North Island of NZ. More details around dates and pick up points will be published and emailed as soon as we can lock it all in. Due to logistical issues, no finisher medals will be issued.
Where can I see your full refund policy?
This was displayed on your checkout page when you agreed to register for the event as per the screen shot displayed below.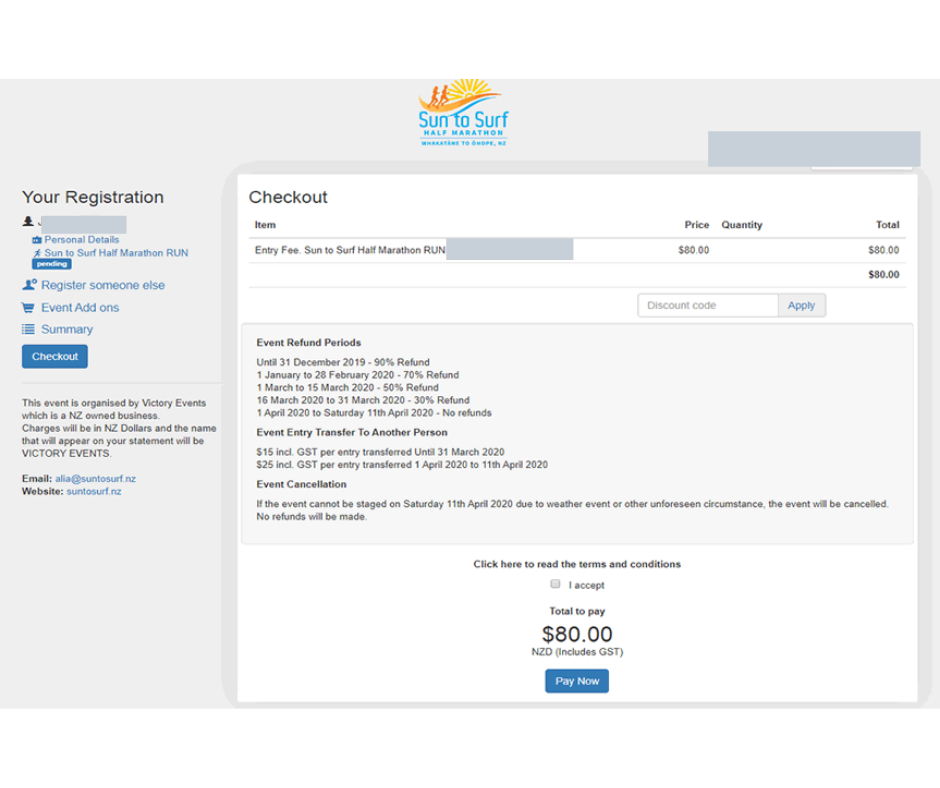 Please note that refunds mentioned on our website are an excerpt with regard to individual withdrawal from the event.
Will the event be back next year?
We are working on it, and will make announcements around this as soon as we can.
I have further questions, who can I direct them to?
Please email all questions to info@suntosurf.nz so we can direct this to the most appropriate person and ensure you get an answer.
Top